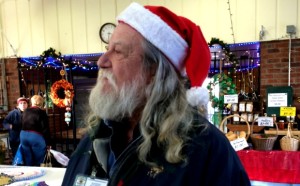 Looking strangely similar to Vendor Dave Fisher of Ocean Bottom Custom Crafts, Santa was seen Saturday at The New Bern Farmers Market surveying the amazing variety of fantastic gifts ready for every member of the family and for friends.
C'mon down! Tuesdays 8am 'til 2pm through Christmas and Saturdays year-round from 8am 'til 2pm.
The New Bern Farmers Market is located at 421 South Front Street next to the North Carolina History Center.
Submitted by: Bill Rust, A. Thompson Flags and Flagpoles