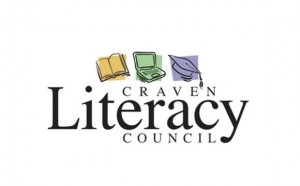 Craven Literacy Council is offering a workshop to train volunteer tutors to work with adults who need basic literacy skills, or who want to learn to speak and understand English. The 15-hour workshop will provide participants with teaching techniques and materials that will prepare them to tutor with the Council.
The workshop begins on Tuesday, January 20, 2015 and will continue with sessions on January 22, 27, 29, and February 3 (Tuesdays and Thursdays). These training sessions will be from 2:00 PM until 5:00 PM. All sessions will be held at Craven Literacy Council. 2507-F Neuse Blvd., New Bern, NC.
The first hour of the January 20th session is an orientation of Craven Literacy Council and what is expected of volunteer tutors. If you have ever thought of becoming a tutor, but are not sure, please consider coming to the orientation portion of the first class to hear about our organization and ask any questions you would like. You then have the option of staying for the remainder of the training workshop. To register or for more information visit our website at www.cravenliteracy.org, email us at info@cravenliteracy.org, or call 252-637-8079.
You can make a difference in someone's life. Please join us and become a ProLiteracy Certified Volunteer tutor. Your educational background does not matter. What is important is patience and flexibility.  Basic computer knowledge is also helpful (having an email account and the ability to find/open a website).
Submitted by: April King, Craven Literacy Council