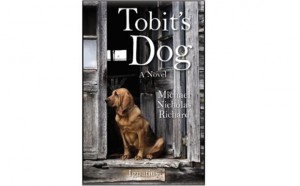 Local author, Michael Richard, has spent most of his life in New Bern, NC, and draws heavily from the region's culture, scenery, and history for his most recent novel, Tobit's Dog, published by Ignatius Press, one of the largest publishers of Christian books, music and videos.
Having earned aggregate reviews of 4.8 out of five stars on Amazon, Books-A-Million, Barnes and Noble and Goodreads, Tobit's Dog is the retelling of the biblical story of Tobit, set in North Carolina during the Depression and Jim Crow era. Tobit's Dog brings beloved Old Testament characters to life, including the important but often overlooked family dog.
"An adventure that yields love, redemption and justice…Tobit's Dog is a magical book," says Mark Lardas, Galveston County Daily News.
Meet the author, Michael Richard, as he signs books and meets fans from 1 – 5 pm on December 13th, 2014. This opportunity will take place at Books-a-Million on Martin Luther King, Jr Blvd, New Bern, NC.
For more information, interviews, or promotional materials, please contact Rose Trabbic, Publicist for Ignatius Press, at 239-867-4180 or send an email.
Submitted by: Rose Trabbic, Ignatius Press