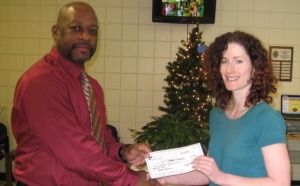 Rachel Hunnings, Art Teacher at W.J. Gurganus Elementary, won a 2014-15 Twin Rivers Art Association Art Grant through Partners In Education.
Ms. Hunnings is shown here at her check presentation with Adrian Fonville, Assistant Principal at W.J. Gurganus Elementary.
Her project, titled, "Exotic Ceramic Birds," will introduce the W.J. Gurganus second grade students to working with clay by constructing a ceramic bird using a pinch pot for their base. They will draw inspiration from a variety of exotic birds and their finished birds will be glazed with bright colors to mimic those found in tropical birds.
This project will cover the Visual Arts Essential Standards and the students will create art from real and imaginary sources of inspiration.
Partners In Education and TRAA have been providing assistance to fund hands-on art activities in Craven County Schools' classrooms. This program has grown over the years and allows art teachers the opportunity to purchase materials for activities in the classroom without having to spend money out of their own pocket.
For information on Partners In Education, contact Darlene Brown at 252-514-6321 or visit the PIE website at www.CravenPartners.com.
Submitted by: Darlene J. Brown, Executive Director, Partners In Education