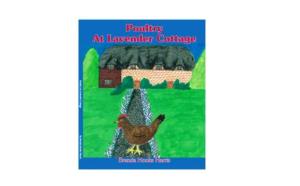 Poultry at Lavender Cottage by Brenda Hooks Harris is a new Children's book primarily written for the 7-11 age group but is suitable for all ages. It is about the coming of age of a young Bantam hen growing up in an English Country Garden.
What is the purpose of Poultry at Lavender Cottage? Poultry at Lavender Cottage was written for the purpose of entertaining children and encouraging young values for raising free range chickens.  The book provides a fun way for children to learn about chickens, healthy eggs, and the importance of eating healthy food.
Brenda Hooks Harris the author is from New Bern. She created the story for her grandchildren, and based it on the chickens owned by her very dear friend in a small village garden near Newbury, England. These are free range chickens who roam in the garden during the day but spend the nights in the safety of their chicken coop. The book is full of Intelligent Information about chickens, their history, their diet and way of life. There are many breeds of chickens but this story centres on the Light Sussex and Rhode Island Red breeds. Of course there is the age old argument of which came first, the chicken or the egg.. but that is not part of our story here.
Poultry is the lead character and it is her story of coming of age from a young bantam to a hen at the point of lay, which is by the way a very big milestone for a chicken. This book is printed in hardback in full color. It is not a long book, only 47 pages with charming Illustrations by Shirley N Jones an animal portrait artist from Newport.
The official launch of the book will take place in mid-December at the Birthplace of Pepsi, 256 Middle Street, New Bern. Book Signings will take place on January 10th at Bear Towne Java on Middle Street, New Bern at 2pm courtesy of Jean Kenefick and Teresa Mitchell with opening entertainment by magical storyteller Gary Shelton: also, on January 17th at the Next Chapter Book store, 320 South Front St, New Bern at 2pm courtesy of Patti and Tom Reeves. A portion of the proceeds from the sale of the book at these events will be donated to the "State of the Child Conference" through United Way of Coastal Carolina. The author has a background in healthcare, education, and social work. Throughout her career she has authored and directed  programs for the Prevention of Child Abuse.
Published by: Podkin Press in color, hardback, 47pp. December 2014, 252-349-3042
Submitted by: John Mulligan, Podkin Press