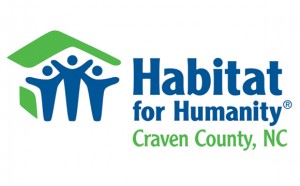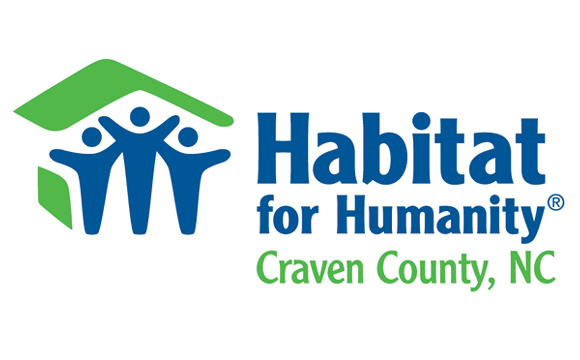 Habitat for Humanity of Craven County celebrated the completion of its 58th home at a dedication ceremony Thursday, December 18, 2014. Thanks to the persistence and hard work of the wonderful Habitat Volunteers, Site Manager, Jimmy Garner, and the Habitat staff, the home was completed just in time for the family to be in their new home for Christmas.
Over 50 people came together for the dedication ceremony including: family and friends of the homeowner Komesha Arrington, Habitat volunteers and staff, Habitat board members, and the family's pastor, as well as New Bern City Aldermen, Victor Taylor and Jeffrey T. Odham.
The dedication opened with a prayer by the family's pastor John Pierce. Blessing of the home was read by Habitat Board President, Judy Pierce. Habitat Construction Site Supervisor Jimmy Garner, presented the family with a Bible. Board Member Dick Peebles gave the family a wooden bowl made by Carl Mizelli, using wood from a tree that stood on the lot before the home was built. Executive Director Mark Beard led the guests in the reading of the Litany of Life and then presented the homeowner with the keys to her new home.
Homeowner, Komesha Arrington said "This is a gift that keeps on giving. I am so blessed." Komesha went on to thank all those who worked so hard to help them reach this goal. "God will carry on these blessings he has started here with me, to you and your families."
Ms. Arrington and her daughter Shontesia are originally from New Bern and she has been displaced twice from her rental residence due to gas leaks.  They are very excited about their new home. Komesha is currently attending Craven Community College and works as a phlebotomist for Carolina East Medical Center. The Arrington family have put over 200 hours of sweat equity into the construction of their home.
Habitat is truly a "hand up" not a "hand out". They do not give away houses. Rather, they replace blighted properties or vacant land with very nice looking homes and partner with deserving families who manage a modest 25 year interest free mortgage. With the help of many volunteers Habitat for Humanity is able to keep the cost of the homes low. Since 1989, Habitat for Humanity of Craven County has helped change the lives of over 58 families.
For more information visit Habitat for Humanity at 930 Pollock St., New Bern, or call 252-633-5512
Submitted by: Mark Beard, Habitat for Humanity of Craven County