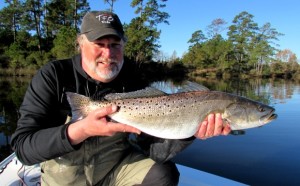 Trout fishing has been excellent in the creeks off the Neuse River.
Fishing light and slow will increase your numbers. 1/16 and 1/8 weighted jig heads and weed less bass hooks with a variety of soft body shapes from DOA have produced very well, along with suspending hard baits. 10 pound braid and light action rods have also improve our catches.
Striper fishing has been good I the New Bern area on deep ledges and hard structure.
Soft plastics, again have been our best producer. Fly fishing for specks and stripers has also been excellent.
Look for the action to continue through the winter.
Capt. Gary Dubiel is offering fishing seminars at the Marriot Courtyard in New Bern this winter and spring. For more information, visit SpecFever Guide Service's website for topics, dates and ticket sales.
Submitted by: Capt. Gary Dubiel, SpecFever Guide Service