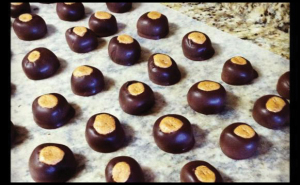 One of my all time favorite holiday treats are peanut-butter "buckeye" balls.
If you're from the great state of Ohio, you know what these are.  If not, you need to make them….today.  My family makes them every year, and in addition to being delicious, these little beauties are also incredibly simple!
You really can't go wrong with peanut butter + chocolate.
I cleaned up the original version by using a combination of fiber-rich coconut flour, oat flour, and stevia to replace the traditional honey and powdered sugar.  After a little bit of playing around, I came up with the perfect fat loss friendlier Christmas (or anytime) treat!
Check them out…
Coach Kates's Peanut Butter "Buckeye" Balls
Ingredients:
Peanut Butter Filling:
– 2 cups Natural Peanut Butter
– Pinch of sea salt
– 2 cups oat flour
– ½ cup coconut flour to consistency
– Stevia or sweetener of choice to taste & consistency (I used both liquid + powder stevia)
Chocolate Coating:
– 12 oz. dark chocolate, melted (optional: sugar free)
– 2 teaspoons coconut oil
Directions:
– In a medium bowl, mix together the peanut butter, stevia and a pinch of sea salt.
– Add in the oat flour followed by coconut flour gradually– starting first with a ¼ cup, then adding it in a tablespoon at a time until a "dough" forms. I ended up using a ½ cup of coconut flour, but it may vary depending on the texture of your peanut butter.
– Drop the dough by rounded tablespoons onto a pan lined with parchment paper. (Roll with your hands to make them smooth).
– Place the balls in the freezer to set for 30 minutes.
– Melt the chocolate together with the coconut oil. (I used an oven-safe bowl– 5 minutes at 400F – but any method works!)
– Remove the peanut butter balls from the freezer, and dip each one into the melted chocolate mixture, coating each one thoroughly. Return the chocolate-covered balls to the parchment paper, and set in the freezer for 30 minutes before serving.
Store in the fridge or freezer for longer shelf-life.
By Contributing Author, Kate Horney, BeyondFitPhysiques.com