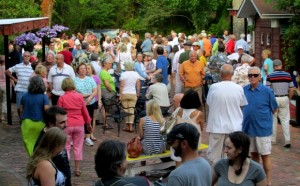 The Community Artist Will presents this month's ArtCrawl on December 12th! It will surely excite you as you walk the streets of beautiful Downtown New Bern.
The Isaac Taylor Gardens on Craven Street will feature many artists and crafts people demonstrating their talents and selling their hand made one of kind art works just in time for the holiday season.
Samrae Duke will be demonstrating her illustration skills as well as have prints for sale. Lynne Baron Goodwin will be showing and selling her fine art photography. Lisa Bisbee-Lentz will be demonstrating her painting skills. Katherine Wiggs will be on hand with her fine art acrylic painting featuring realistic scenes of daily life. Ashley McDaniel will have her enamel and scrimshaw jewelry available for sale and commission. Jewelry maker, Alice Bilello, will have her stylish creations set up for your perusal. Mehak Minhas will be giving henna tattoos and have watercolor paintings. Laura Arias will be selling her Christmas ornaments and sea shell creations. Other artists include Devyn Dawson (local author), Laura Gammons, Becky Preece, Ardin Lindsey, Allen Meredith, Briana Heath, Sue-Lawrence Nester, and Ellen Naranjo of the Orange Hair.
The Gallery on Craven, a cooperative local artists gallery in the Isaac Taylor Building, will have their doors open.
Come out and support the wonderful artists who have their works of art on display there. Many crafts from blown glass, handmade jewelry, and art works like painting and photography will be available for purchase.
Top Shelf Consignment will be open and displaying the works of several local artists.
On Middle Street, find local artist and proprietor of The Brown Pelican Pub (Broad Street, next to Chelsea) Blaine Kruger demonstrating and selling his nautical themed paintings at The Boathouse. JaqJill will feature the works of artists Tony Fischer and Brandon Moreno. John Derby will be displaying his photography and Digital Art at Hopeful Balance.
On Pollock street, Fine Art at Baxters will feature the art of Jim Bisbee.
Warm up with a cup of coffee or hot chocolate at Bear Town Java and see the work of their featured artists, Ron Lamm.
Just through the back corridor of Bear Town Java is the Red Shoe Studio Gallery. There you find the featured works of Charles M. Hines and Elisa Schulman, creator of In the Wind Beading.
For more information, please check out CAW's website and Facebook page. Visit the Gallery on Craven at 228 Craven St. or call 252-649-1712.
Submitted by: Community Artist Will