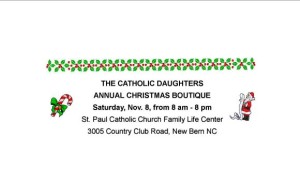 Mark your calendars and start shopping early!
Great selection of crafts; new and gently used books; fantastic array of new and recycled jewelry; "second time around" beautiful new and gently used items; and homemade baked goods.
Junior catholic daughters will have many bargains.
The CDA Café open 8 am to 8 pm for your relaxation, serving breakfast, lunch and dinner.
You may shop, stop and eat and shop some more.
Raffle tickets available – 1st prize large basket of cheer and 2nd prize a fantastic "night out" to include dinner for 2, compliments of Morgan's Restaurant and 2 show tickets compliments of New Bern Civic Theater.
Know while you are shopping you are helping us to support our various charities like MERCI Clinic, senior pharmacy and others.
For more information please call Mary Spano 252-633-4768 or Belinda Swager 252-633-0100 (day) or 252-638-4079 (evenings).
Submitted by: Nancy Stewart