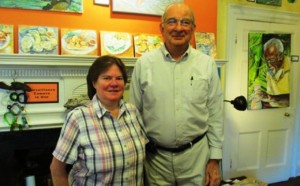 Laura Johnson interviewed Paul Hill, Treasurer of Craven Concerts, Inc to learn more about this special non-profit that promotes the Arts in Craven County.
Listen to the radio interview aired on New Bern News Talk Radio WNOS 97.1FM and 1450AM. You can also hear the interview online on NBN's Libsyn page:

When asked what Craven Concerts, Inc. was, Paul said, "Our purpose is to bring good, high quality, and diverse music to Craven County and New Bern".
Paul was excited to announce their upcoming show on Tuesday, November 18, "Let's Hang On". "The Show is built around the Four Seasons group that highlighted Franki Valle". They'll be playing music from the 1950s and 1960s and interacting with the audience.
Although we've never been to a show, we've heard excellent reviews about their performances!
Events are held at Grover C. Fields Performing Arts Center and seating begins at 6:45 with performances starting at 7:30pm.
Tickets to concerts are by subscription only.  Base subscription for the Annual Series is $75 per person for tickets to all four concerts. No tickets are sold for individual performances. Prices are prorated as the season progresses. You must purchase all four performances.
You can use PayPal or print and fill out the information on the Subscription Form and return it to: Craven Concerts, Inc., P.O. Box 12213, New Bern, NC 28561-2213.
For more information, call 252-637-1119 or visit their website: www.cravenconcertsinc.org.
Tell us what you think by commenting below or sending us an email. Visit New Bern Now's Facebook page or sign up for the latest updates by submitting your email address in the right margin on New Bern Now's website.
Wendy Card