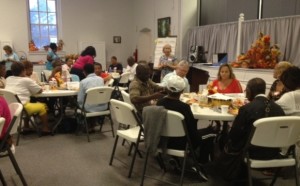 Grandparents raising their grandchildren were invited to attend the workshop to learn about support and resources for raising children in today's challenging environment. The group focused on identifying their individual needs, dealing with difficult situations and resources and support currently available to them.
For information, contact the Children's Coalition at 636-4900, ext. 3081, or email Parents and grandparents may also visit this website.
Dinners for the grandparents and their grandchildren were provided by the Senior Services Center and Capt. Ratty's Restaurant. Guardians ad Litem provided childcare.
Submitted by: Terry Brubaker, Program Manager, Child & Family Services Division, Craven County Department of Social Services