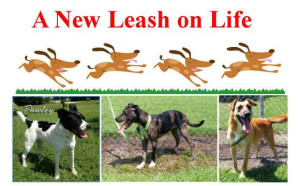 Kristoff: What in the world is a Louisiana Catahoula Leopard Dog? Well, you need to meet Kristoff. This merle colored, 6 month old male is just that. He weighs about 35 lbs and will probably be about 45 lbs when full grown. He walks well on a leash and would make a good jogging companion. He is very, very high energy and needs a family that can appreciate an active companion dog. Until he matures, we would not recommend that he be with small children or cats because of his energy level. Because of his high intelligence, he will need to be mentally stimulated with activity that will make him think. Catahoulas are highly intelligent, energetic and quick, yet are generally very loving and gentle. They are inquisitive and can have an independent streak.
Pawley: This black and white Boston Terrier/Border Collie mix is the cutest little boy imaginable. He is 11 months old and weighs about 35 lbs. He has long legs, a cropped tail and beautiful markings. He is a high energy family dog good with older kids and other dogs. He has been in a foster home so is familiar with living with a family and already has good manners. He will fit right into any family as if he had been born to be there. Is there room in your family for this cute little guy?  You won't be sorry.
Leia: This beautiful, spayed female, fawn colored Shepherd is 2 years old and weighs about 45 lbs. She has had a hard life. She was discovered in a back yard with only a piece of plywood in a tree as a shelter. She was outside alone during all the torrential storms. She was rescued by Animal Control and because of her winning personality chosen for the NLOL program. She is very lovable and affectionate. She loves to dance and will twirl around to get attention. She needs an active family with older children that will include her in all their activities. She is a fun loving dog and will keep you entertained.  She is looking for a good family that will never make her stay outside again. She has a come a long way from her previous life and has really proven herself to be ready for a family.
Currently, Kristoff, Pawley, and Leia are at the Craven Correctional Institution being trained by an inmate on basic obedience and agility as well as crate trained, leash trained and housebroken. They will be ready for their new home and family at graduation on November 12th. Would you like to bring one of these cute little dogs home? If so, it is necessary to complete the application found on Pals for Paws website and email it to Bonnie Compton.
Bonnie can be reached at 252-638-2358.  If you are selected to be one of these dog's new family, a home visit and Veterinary reference will be required.
Submitted by: Bonnie Compton, Pals for Paws