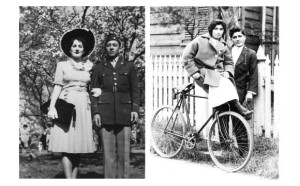 Free exhibit will be held at Tryon Palace's North Carolina History Center, September 12 – December 14, 2014
An exhibition to commemorate the history of Lebanese immigrants who have made North Carolina their home since the 1880s will open Friday, Sept. 12. "Cedars in the Pines: The Lebanese in North Carolina: 130 Years of History" is the latest free exhibit to be hosted in Tryon Palace's Duffy Gallery, located inside the North Carolina History Center.
Researched and developed by the Khayrallah Program for Lebanese-American Studies at N.C. State University, the multimedia exhibit features personal stories, family photographs, home movies, letters, artifacts and audio recordings that bring to life the story of Lebanese immigration in North Carolina. Computer games, Arabic music, a dance floor to learn steps of the dabke, and other interactive components will further immerse museum visitors in the Lebanese immigration experience.
"Cedars in the Pines recounts the hard work, challenges and contributions of three generations of Lebanese immigrants who have adapted to life in North Carolina while struggling to maintain their cultural heritage," says Akram Khater, Ph.D., Director of the Khayrallah Program for Lebanese-American Studies at N.C. State University. "Lebanese Americans have left a lasting impression on the state's civic, social, political, religious and cultural life."
Cedars in the Pines follows the experiences of Lebanese immigrants from two waves of immigrations. The first wave arrived between the 1880s and the 1920s, when economic decline, famine and war encouraged the Lebanese to leave for the Americas and Africa. Some found their way to North Carolina. Another wave of Lebanese immigrants began to arrive in 1975, when a civil war broke out in Lebanon. This internal conflict and continuing regional tensions have led more Lebanese to emigrate.
Cedars in the Pines brings together their remarkable stories in three exhibit sections. A brief description of each follows:
– Journeys explores the many choices associated with immigration. The section includes the history of Lebanon, the reasons the emigrants left home, and the hardships of their long journeys. In the 1880s, thousands boarded steamships for America, where new arrivals faced more challenges in a foreign country. Exhibit items, such as an Arabic Bible that belonged to Side Mack, who immigrated at age 17, help tell these important stories.
– Belonging focuses on the challenges and opportunities of Lebanese immigrants who moved to North Carolina. Khater notes that the newcomers experienced culture shock, struggled against challenges and discrimination, and earned acceptance and success. The section highlights work, school and those who have given back to their communities. Visitors will see an elementary reader printed in Arabic; a Lebanese passport; items from Parker's Restaurant, a family-run business in Rocky Mount; and other artifacts that recount these experiences.
– Being explores what it means to be Lebanese in North Carolina, centering on home, religion and community. In this section, Khater explains that cultural practices like marriage traditions and food, music and religion, along with community organizations, played key roles in their efforts. Some traditions were changed to adapt to American culture, but others were strongly maintained.
Cedars in the Pines was previously displayed at the N.C. Museum of History, but has been moved to the North Carolina History Center with funding support from the Tryon Palace Foundation.
Additional support for Cedars in the Pines comes from N.C. State University, Department of History; Triangle Lebanese Association; and N.C. Humanities Council, a statewide nonprofit and affiliate of the National Endowment for the Humanities; and the Digital Innovation Lab at UNC-Chapel Hill. Individual and foundation gifts from the Lebanese-American community in North Carolina have also helped fund the exhibit design and installation.
For more information about Tryon Palace, please call 252-639-3500 or visit www.tryonpalace.org.
Other upcoming events at Tryon Palace include:
Sept. 19: Governor's Challenge Cornhole Tournament
Sept. 27: Teacher Day at Tryon Palace
Sept. 27: Fall Family Day
Sept. 27: Kitchens of New Bern Tour
Oct. 10-12: MumFest Weekend
Dec. 13 and 20: Eve of Revolution: A Candlelight Celebration
Submitted by: Craig Ramey, Marketing and Communications, Manager, Tryon Palace