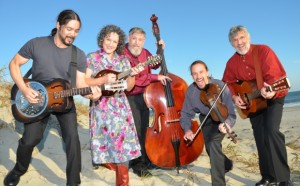 The 2014-2015 Lifetime Learning Center's Explorations in The ARTS season features Ragtime and Dixieland Jazz, Folk and Americana Music and Flamenco Music and Dance.
The Lifetime Learning Center at Craven Community College begins its second season of Exploration in The ARTS with Blair Crimmins and the Hookers, a Ragtime and Dixieland Jazz band. The other performances in the series will feature Molasses Creek, a folk music/Americana band from Ocracoke Island and Flamenco Vivo Carlota Santana II, one of the nation's premier flamenco and Spanish dance companies. All performances will be in the newly-renovated Orringer Auditorium at Craven Community College.
Blair Crimmins and the Hookers bring a new brand of jazz to the stage. Described as a rock star of ragtime, Crimmins adds his own swinging southern panache with youthful vehemence: rapid-fire lyrics and an audacious hair-tossing delivery (think Jerry Lee Lewis). The band is solid, recalling fine players like Pete Fountain and Al Hirt. The performance is Thursday, September 11, at 7:30 p.m.
Molasses Creek, from Ocracoke Island, N.C., is a group of phenomenal songwriters and interpreters of song, running the gamut of traditional to contemporary acoustic, sweet ballads with ensnaring vocal harmonies, hot instrumentals, and quirky vaudevillian pieces. They perform on Thursday, November 6, at 7:30 p.m.
Spring brings a taste of Spain to the stage at Orringer Auditorium. Flamenco Vivo Carlota Santana II uses flamenco, a multi-cultural art form, to build bridges between cultures and to inspire audiences from diverse backgrounds. Three members of the Flamenco Vivo II performance company, two dancers accompanied by a guitarist, will inspire the audience with the intensity of its music and energetic dance. The performance is Friday, March 6 at 7:30 p.m.
"Our goal for this series to encourage people to explore new genres of the performing arts" says Jennifer Baer, director of the Lifetime Learning Center and community engagement. "This is a diverse lineup that will appeal to a cross-section of audiences," said Baer.
The three events can best be described as "informances", a unique recipe of two parts live performance, one part artist interview, stirred together with a pinch of Q&A and a dash of audience participation.
Putting the mix together for the series is Colleen Maloney Roberts, who returns as host for the series. Colleen spent several years working locally with WCTI News Channel 12, reporting on stories from across the state and around the globe. She is the City of New Bern's Public Information Officer. Roberts also manages New Bern's government access channel, City 3 TV.
Three-performance series tickets can be purchased at a 10% discount until September 9, 2014 for $54 (Normally $60). Tickets can be purchased by calling 252-638-7351, or online at www.cravencc.edu/llc, Select "Registration/Tickets".
Submitted by: Deborah Kania, Director of Marketing, Communications, and Development Liaison, Craven Community College