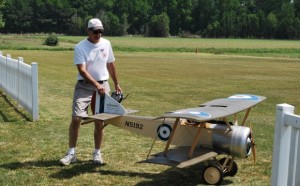 Southern Air RC Club is hosting a "Fall Fly In" air show in Vanceboro on Saturday, September 13, 2014 from 9 a.m. until.
The show will feature all types of radio controlled model airplanes and helicopters.
The show begins at 9:00 and spectators are free.
Food and drinks can be purchased for lunch.
Directions to the Gaskins Field site can be found at www.southernairrc.com or by calling 252-635-1684.  It is located at 1451 Old Brick Road, Vanceboro, NC (watch for signs)
Submitted by: Gene Peele