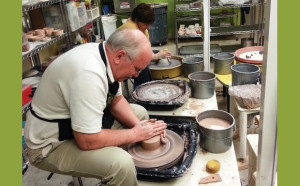 Bear Hands Art Factory is inviting people to come in and give pottery a spin. Next Friday, August 29th, from 5 to 9pm the studio will be open and the public is invited to a complimentary evening of exploring clay, trying the potter's wheel and more.
"Pottery is a lot of fun, and we want people to get in here to try it for themselves," says Shelley Mathiot, owner. "Getting the clay on the wheel and working with it is relaxing. Making a bowl or a mug that you can actually use or give to someone is a great satisfaction."
The studio, located at 1208 Pollock St. next to the Ghent Sandwich Shop, offers pottery, water color, acrylic, drawing and Asian brush painting for adults. In addition, they hold after-school classes and summer camps for children ages 3 and up.
"This was our 10th year of summer camps and we had 227 enrollments. We are blessed to have many repeat customers, and kids we have watched grow up," says Mathiot. "We want adults to come in and see how much fun this is!"
The free studio night includes one piece of clay and a little guidance from Shelley Mathiot or her daughter, Hannah, who works with her.
"Expect to get a little muddy, so wear your casual washable clothes. Also expect to have fun!"
The studio has 8 wheels, a full-sized slab roller, an extruder and 2 kilns. Classes and several different types of memberships are available. Call 252-514-ARTS (2787) or visit www.bearhandsart.com for more information.
Submitted by: Shelley Mathiot, Owner, Bear Hands Art Factory