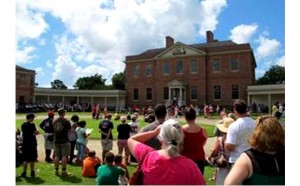 Reading of Declaration of Independence, Fife and Drum Performance Begin at 11 a.m.
Tryon Palace will celebrate Independence Day with costumed interpreters, a performance by the Fife and Drum Corps and a live reading of the Declaration of Independence. All scheduled activities are free and will occur on Friday, July 4.
In 1783, North Carolina Governor Alexander Martin became the first American governor to issue a State order for celebrating the 4th of July. Step back and join the festivities of one of our nation's earliest celebrations of the Glorious Fourth at the home of North Carolina's first state capitol.
The prime attraction of Tryon Palace's Glorious Fourth celebration will take place at11 a.m. in the Palace courtyard. The Fife and Drum Corps will march in through the gate and give a brief performance, followed by a live reading of the Declaration of Independence on the Palace's front steps.
Activities begin at 9 a.m. behind the Stable Office, where Thursday Morn will be performing music until the Fife and Drum marches through the Palace gates at 11 a.m. Games and children's crafts will be held from 10 a.m. to 2 p.m. in Mattocks Hall with activities that include: signing a take-home version of the Declaration of Independence with quill and ink, decorating a fan and making whirligigs.
Roaming interpreters will be performing across Tryon Palace's grounds and gardens. In addition to seeing Governor Alexander Martin, visitors should expect to meet loyalist Alexander MacAuslan, and Elenor Pittman, a war widow.
Visitors are invited to cool down from 10 a.m. to 2 p.m. with lemonade from Richard Cogdell's Ordinary, located in the Kitchen Office courtyard. All families are welcome to bring a picnic lunch and enjoy their entire day immersed in the past.
Admission is free for all events on the Glorious Fourth, including garden admission from 9 a.m. to 7 p.m.; however, interior tours will require the purchase of a ticket.
Upcoming Events at Tryon Palace
July 3: 440 Army Band on the South Lawn
July 4: Glorious Fourth
July 20: Mail Call (final day of exhibit)
Aug. 23: Where Rivers Meet Summer Jazz Festival
For more information please call 252-639-3500 or visit www.tryonpalace.org.
Submitted by: Craig Ramey, Manager, Marketing and Communication, Tryon Palace and the North Carolina History Center