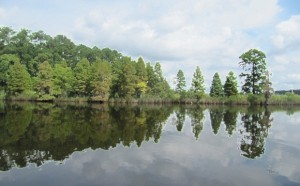 The critically acclaimed documentary, Triple Divide, will be presented for a free screening by Carolina Nature Coalition, Frack Free NC, and River Guardian Foundation. The showing is scheduled for 6:30 PM on Thursday, July 10, 2014, at Trent River Coffee Company, 208 Craven Street, New Bern.
Triple Divide is said to be the only documentary of its kind capable of speaking to all sides on the controversial subject of hydraulic fracturing, with exclusive interviews from the industry, experts, and Americans suffering in the wake of shale-gas development. The film is built on cradle-to-grave investigations that attempt to answer the question, "How are state regulations and industry handling impacts from fracking?" The film reveals how water contamination is being covered up by the industry and by the state of Pennsylvania, essentially rewriting water quality history in the United States by dismissing predrill tests. Meanwhile, state regulators are abandoning the public in the wake of shale-gas development.
Following the film, local expert George C. Matthis Jr. will lead a discussion about what fracking means for North Carolina and our water quality. Mr. Matthis holds a BS degree in Marine Biology from the University of North Carolina at Wilmington and a MS degree in General Administration from Central Michigan University. As a Certified Public Manager, he served 33 years in numerous technical and managerial positions with the North Carolina Department of Environment and Natural Resources and represented the State of North Carolina on various national environmental committees. He held the executive director position for the Neuse Riverkeeper Foundation before co-founding the River Guardian Foundation. He was appointed to Wake County Open Space and Parks Advisory Commission and is currently chair of the Water Quality Subcommittee. Mr. Matthis is the recipient of the Old North State Award for dedication and service beyond expectation and excellence to the State of North Carolina.
This is the fourth of a series of films dedicated to environmental issues of concern to local citizens of eastern North Carolina.
To sign up for information about the Carolina Nature Coalition's film series or other notifications, send an email to Carolina Nature Coalition.
Submitted by: Constance Casey on behalf of Carolina Nature Coalition