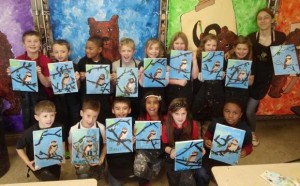 Bear Hands Art Factory, located at 1208 Pollock Street, is having an open house for Summer Camp registrations on Art Walk night, Friday, May 9, from 5 to 8 pm. Parents can come in and see examples of art projects, have refreshments talk to teachers and look around the studio.
"We are encouraging parents to come in with their kids for a visit, and also to get them familiar with our new location," says Shelley Mathiot, owner. "Last year we were on Middle Street and the surroundings were very familiar to our kids who have been  coming for years. New kids will feel more comfortable being dropped off this summer if they've visited and met the teachers."
Bear Hands is offering day camps each week this summer from 9:30-11:30,  and from 12:30-2:30, with a lunch break at the Ghent Sandwich Shop. For a full listing of summer camps, visit www.bearhandsart.com and click on the "Summer Camps" page.
Submitted by: Shelley Mathiot, Owner, Bear Hands Art Factory