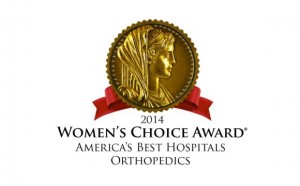 CarolinaEast Medical Center Honored for Providing Exceptional Patient Care and Treatment in Orthopedics
CarolinaEast Medical Center has been named a Women's Choice Award® recipient as an America's Best Hospital for Orthopedics, acknowledging CarolinaEast Medical Center's dedication to provide exceptional patient care and treatment. The award is based on robust criteria that include patient satisfaction measurements as well as consideration of areas of clinical excellence.
Providing women with smart orthopedic choices is critically important. According to the National Osteoporosis Foundation (NOF), osteoporosis, a disease characterized by weakened and fragile bone tissue, is one of the key diseases that predominately affect women. In fact, half of all women age 50 and older will break a bone due to osteoporosis in their lifetime (NOF, 2013). Of the estimated 10 million Americans with osteoporosis, about eight million or 80% are women. The NOF also notes that a woman's risk of breaking a hip is equal to her combined risk of breast, uterine and ovarian cancer (NOF, "What Women Need To Know").
CarolinaEast Medical Center qualifies for this highly selective annual list based on an in-depth proprietary scoring process.  The scoring utilizes data reported by the Centers for Medicare and Medicaid Services. The selection process identifies those hospitals that provide comprehensive orthopedic services, and that meet criteria for patient satisfaction and surgical excellence based on female needs and preferences.
"As one of America's Best Hospitals for Orthopedics, CarolinaEast Medical Center is demonstrating their commitment to fulfill the needs and preferences of women by meeting the highest standards of excellence and performance," states Delia Passi, CEO and founder of the Women's Choice Award program, and former group publisher of Working Woman and Working Mother magazines.
The Women's Choice Award program provides women with a trusted third party endorsement based on hospital experiences by patients in their community and back that with clinical data. By carrying the Women's Choice Award seal, CarolinaEast Medical Center has joined an elite network of hospitals committed to a global mission to empower women to make smart healthcare choices.
"We strive to provide the residents of eastern North Carolina with the compassionate, quality orthopedic care they need and deserve. Acknowledgement of those efforts with a renowned honor like the Women's Choice Award is confirmation we are successful in our efforts," said G. Raymond Leggett III, President and CEO of CarolinaEast.
"Women spoke and clearly defined what's important to them when seeking an orthopedic hospital and the standard of excellence they expect for themselves and their families. As one of America's Best Hospitals for Orthopedics, CarolinaEast Medical Center was selected due to their excellent rating in areas such as post-treatment complications, patient recommendation ratings, availability of minimally invasive surgery and appropriate post-surgical care," says Delia Passi.
Women have many choices when it comes to orthopedic care. Now they can make informed choices based on the recommendations of women who have experienced a particular hospital. Most importantly, when a woman sees the Women's Choice Award seal at her local hospital, she'll know the hospital values her experience as a critical component of care for her and her loved ones.
Submitted by: Megan McGarvey, Director, Public Relations, CarolinaEast Health System