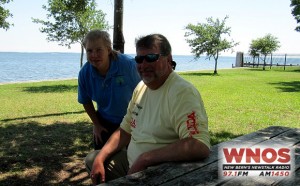 After hearing about the terrific conditions for fishing in the Neuse and Trent Rivers, I asked our friend, Captain Gary Dubiel of SpecFever Fishing Guide Service to share his thoughts with us. The interview is airing on New Bern's News Talk Radio, 97.1FM or 1450AM. Listen to it here:
If you haven't heard of Captain Gary Dubiel, he's a renowned fisherman and area guide as the owner of Spec Fever Guide Service. Here's a link: http://www.youtube.com/watch?v=Ss3kLV_HMEE to one of many videos and articles featuring knowledge of local fishing.
The greater New Bern area and Pamlico County are surrounded by water so we have all kinds of unique fishing opportunities. From salt water to fresh water fishing, we have the best of both worlds!
Gary told us that the New Bern area has some terrific Spring fishing.
There's some really good striped bass fishing. They've just started to come back down river as they travel up the Neuse River to spawn. They're back down in the New Bern area and are biting on topwater baits which are a great way to catch them.
He's seen some great speckled trout this Spring. They're also seeing some very nice puppy drum (aka red fish). You can also catch flounder, crappie, brim, perch, largemouth bass, and catfish.
Bait is important. Captain Gary recommends artificial baits from a variety of topwater to subsurface hard and soft bait lures work very well. If you're fishing with live bait, it may get pretty tough sitting and waiting on a spot. Different baits for different fish is the key to catching them.
Gary said, "New Bern probably has some of the best topwater fishing anywhere".
When I asked him about spring fishing in Oriental, Gary said, "Oriental has some very good fishing. Typically they don't see the striped bass come down this far". There will be plenty of puppy drum fishing, speckled trout, and flounder".
If you're seeking a fun and relaxing day on the water or if you're a serious fisherman, Captain Gary is your "Go to Man"!
"You may have seen him on ESPN 2, WFN, UNC-TV, Versus, the Sportsman Channel, Discovery Channel (Europe), a local or national fishing show, the Saltwater Sportsman's National Seminar Series, or perhaps in any major sports fishing magazine."
Visit Spec Fever Guide Service's website or call 252-249-1520 to make your reservation today!
Tell us what you think by commenting below or sending us an email. Visit New Bern Now's Facebook page or sign up for the latest updates by submitting your email address in the right margin on New Bern Now's website.
Wendy Card