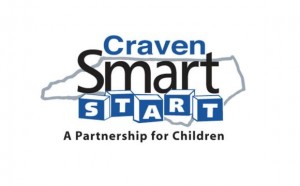 By Pinkie S. Moore
Craven Smart Start invites members of the faith community and faith-based organizations to attend a First 2000 Days Faith Summit on May 20th from 9:00AM to 11:00AM at the Christ Church Ministry Center, located at 311 Middle Street in New Bern.   The purpose of the summit is to discuss the vital role that churches and places of worship play in building a strong foundation for learning and health in young children and to share information about the First 2000 Days, the period from a child's birth to the approximate time he begins kindergarten.    The summit will feature presentations by Dr. Nancy Brown, Board Chair of the North Carolina Partnership for Children; Dr. Terri Colon, Early Childhood Lead Instructor at Craven Community College, and Dr. Lane Mills, Superintendent of Craven County Schools. A complimentary breakfast will be provided, starting at 8:30 AM.   To register for the faith summit, call Karen Wood at (252) 636-3198 or Pinkie Moore at (252) 671-0689 by Friday, May 16th.
Craven Smart Start is hosting the faith summit through a grant from the North Carolina Early Childhood Foundation.  The objective of the grant is to increase awareness of the importance of a child's first 2000 days to their future learning, health and life success.  Ninety percent of brain development occurs in these early years. Business leaders, law enforcement professionals and people of faith have been coming together in similar summits across North Carolina to share the First 2000 Days message to build support for investments in early childhood programs.  With quality early childhood experiences, children will be school ready, have a higher high school graduation rates and grow into productive citizens and valuable employees.
The mission of the North Carolina Early Childhood Foundation (NCECF) is to marshal North Carolina's great people, ideas and achievements to build a foundation of opportunity and success for every child by the end of the third grade.  For more information about the First 2000 Days, visit: www.first2000days.org.  For information about Craven Smart Start, visit www.cravensmartstart.org.
Submitted by: Pinkie Moore, Community Outreach Coordinator, Craven Smart Start, Inc.