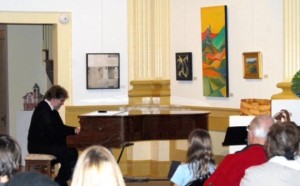 We see him and hear his music at so many of New Bern's arts and entertainment events.
But we don't always remember Dayton Vesper's name.
Pianist Dayton Vesper performs again this week on both Thursday and Friday at two annual young artists events in Downtown New Bern. Both are at the Bank of The Arts.
"I especially like to support college and school-age artists," Vesper says.  An ECU music grad and Suzuki-trained private piano teacher, Vesper says it's important for young artists, musicians and dramatists to contribute to the local arts scene.
On Thursday, Vesper accompanies the Craven Community College Encore! Singers for their year-end "Encore Goes to Broadway" production. The event will feature songs from Wicked, Phantom of the Opera, Motown and more.  This event was rescheduled from last week's rainy day.
Friday ArtWalk features an opening art reception for the "Craven County Schools Student Show." Vesper will offer an evening of eclectic mix of light classical and pop/jazz.
"This art show is really a great event. The art students and their parents are treated to a beautiful gallery setting at the Bank of The Arts for their work, background music and refreshments. And, on an ArtWalk/ArtCrAWL Friday when the town is alive with art lovers."
The Encore! Performance begins at 6 pm. Seating is free or by donation. Friday's student art show is open from 5-8 pm and is free.
For other opportunities to hear Dayton Vesper, several times every week he holds public practice sessions at the grand piano in the Bank of The Arts, 317 Middle St. Listeners are always welcome to pop in.
His Suzuki classes, for ages 4 and older, are held at Village Chapel Presbyterian Church on Madame Moore's Lane.  Website www.daytonvesperpianoinstruction.org
Submitted by: Mary Ann Horn, Community Artist Will