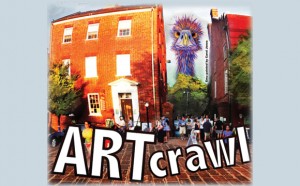 Spring ARTcrawl from 5pm to 8pm on Friday, April 11th in Red, Hot and Blue, as Beth Gosnell's winning entry from Community Artist Will's art contest will be on display at 228 Craven Street. It will be one of thousands amazing works of art to see all over downtown New Bern.
Gathering in the Isaac Taylor Garden, see multiple artisan demos with Lynne Goodwin, Se'rah Cheatham, Tim Darr, Rachel Wheeler, Curt Wright, Jerry Scott, Ben Watford's $2 pots, Walk-a-mile fundraiser, Hannah Marie Moreland, Nancy Zachewicz, Gabrielle Christie, Jim Herring, Wade Dunn, Kathy Jackson, Chris Wagner, Brandy Baxter, Elisa Schulman, and Robin Gockley.
Check out inside the Isaac Taylor House for the newest co-op in town called The Gallery on Craven Street with ten contemporary artists showcasing their wares including Jay Manning, Jon Derby, Sarah Thrasher and Dara Morgan. Plus Greater Good Gallery will host demos by Carol Jones, Lisa Bisbee-Lentz and Alice Bilello.
Near the eastern side of Middle Street, the Next Chapter Bookstore features the artwork by Jim Herring among other artists. Jon Derby's contemporary portraits are on exhibit at MJ's Raw Bar. Maxwell House Studios features Marvin, Linda and Dietrich Maunes' works of art. The Antiquery Boutiquery Gallery & Place will host a reception showcasing a new art library and a print from the estate of Picasso. Framing Fox features civil war limited editions. Blaine Kruger will be painting onsite at the Boathouse.
Rich Daniels hangs new work during the Galley Store's Wine Tasting. On Pollock Street, Baxter's will host artists in their studios and an exhibit of new landscapes and metal sculpture. See handmade gift items at Carolina Creations. Live Jazz performance of "Fools Rush In" starts at 7pm in Rivertown Ballroom.
On your way to the little yellow studio of Michaele Rose Watson to see bohemian artists in action, walk through the new exhibits of Bear Towne Java and Cheshire Moon Gallery. Nearby see the new works of art at Studio 413. Earlier in the day, the Art Department from Craven Community College will open a student art show at the Bank of the Arts.
At 8pm, see live theatre, live music or participate in karaoke. "Pippen" the musical at the Mason Theatre with Rivertowne Players. Trent River Coffee House features a live performance with Drew Nelson. Join in with karaoke in Christophe's Lounge.
Submitted by: Lisa Bisbee-Lentz, Greater Good Gallery in the Isaac Taylor House, 228 Craven St., New Bern