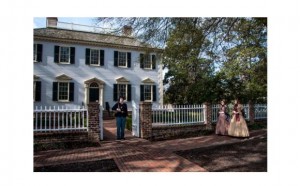 Discover the impact the Civil War had on American families as Tryon Palace brings the 1860s back to life during "Civil War Weekend: A Family Divided." Held March 15-16, Civil War Weekend includes a military encampment, cannon drills, take-home crafts, special tours, and the grand opening of a new Civil War exhibit at the Academy Museum entitled, "Face to Face: Civil War Sketches and Stories."
"This year, I think Civil War Weekend is bringing a level of excitement to the Academy Museum that we haven't seen in several years," said Philippe Lafargue, acting director for Tryon Palace. "We have activities occurring all over the site, but at the Academy it's going to be very busy with the Confederate encampment, cannon drills, and the most interesting of all, our new Civil War exhibit."
"Face to Face" invites visitors to experience New Bern's Occupation through the eyes of African Americans, Confederates, Union soldiers, and women caught between both North and South. Spanning the March 1862 invasion of Burnside's forces, through the devastation of the 1864 yellow fever epidemic, "Face to Face" reveals the daily lives of both military officials and citizens under their rule through artifacts, audiovisual panels, compelling stories, and period images. Medicine, emancipation, education, espionage, and traditional mourning of the dead are some of the themes explored through the framework of wartime and its challenges. This exhibit also brings together sketches by soldier-artists, including Tryon Palace's own Fred W. Smith collection, portraying scenes of civilian and camp life.
Other featured Civil War artifacts include:
– Civil War drum captured at the Battle of New Bern, March 14, 1861
– Civil War-era patriotic apron on loan from the New Bern Historical Society
– Amputation kit from the Civil War period
– Recreated hospital scene depicting a yellow fever outbreak
Designed through a joint effort among the Tryon Palace Foundation, Tryon Palace, the New Bern Historical Society, and the North Carolina Dept. of Cultural Resources, "Face to Face" will remain open throughout the year every Saturday and Sunday, from 12:30-4:30 p.m.
The Charlotte Artillery regiment will also be on the Academy Green, where they'll conduct hospital discussions and artillery drill demonstrations throughout the day.
Civil War Weekend events encompass Tryon Palace's historic houses and the North Carolina History Center. Other special activities include Civil War-themed tours of the Stanly and Dixon houses, crafts, and a photo booth that allows visitors to dress in fashions from the 1860s. Carte Visite-inspired photographs of visitors in their historical clothing will also be available for purchase. All other activities, including admission to the Academy Museum's "Face to Face" Civil War exhibit, are included with the cost of general admission.
Most activities will be held between 10 a.m. and 3 p.m. on Saturday, and 1-4 p.m. on Sunday. For additional information about times and events, call (252) 639-3500 or visit www.tryonpalace.org.
Submitted by: Craig Ramey, Marketing and Communications Manager, Tryon Palace