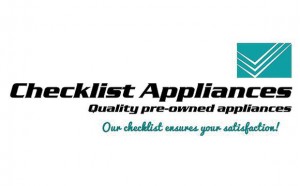 Checklist Appliances of New Bern has announced a year-long initiative offering free washers, dryers, refrigerators and other appliances to area families in need.
Beginning in April, the discount appliance store will be selecting one local family or individual per month to choose one free appliance from its showroom. Checklist Appliances will also provide free delivery and installation to contest winners.
"This is an opportunity for us to give back to our community and help area families that are truly in need," said Greg Passot, co-owner of Checklist Appliances.
The company is asking area residents to enter the contest through its website, checklist-appliances.com, by submitting a brief story explaining how a specific home appliance will benefit them the most.
"The financial burden of replacing a major appliance can be overwhelming, and for some it's simply impossible to fit into a stretched budget."
This will provide many eastern North Carolina residents that opportunity, free of charge," said Passot.
Checklist Appliances will also accept entries in writing at its New Bern location on Martin Luther King Jr. Blvd. Only one submission is required to be reentered for each month's drawing. For full contest details visit checklist-appliances.com.
About Checklist Appliances:
Located in New Bern, N.C., Checklist Appliances specializes in name-brand appliances that have been lightly used or refurbished. The company's showroom, located at 3920 Dr. Martin Luther King Jr. Blvd., also features budget-conscious options. Checklist Appliances backs its inventory with a 30-day warranty and lifetime service plan. For more information, visit checklist-appliances.com, call 252-633-1188, or email checklistappliances@gmail.com.
Submitted by: Vincent Frazer, Checklist Appliances