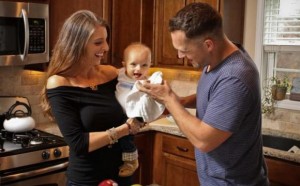 By Kate Horney (www.beyondfitphysiques.com)
Healthy Living Recipe: Crock Pot Greek Stuffed Chicken Breasts
Ingredients:
2 lbs. boneless skinless chicken (budget friendly tip: look for what's on sale or frozen)
3 cups finely chopped spinach (budget friendly tip: buy frozen, thaw then drain!)
2 roasted red peppers, chopped
1/4 cup sliced black olives
1 cup chopped artichoke hearts (budget friendly tip: you can find these canned!)
4 oz. fat feta
1 tbsp. oregano, chopped
1 tsp. garlic powder
1.5 cups chicken broth (budget friendly tip: make your own!)
Salt and pepper
Instructions:
In a bowl, mix together the spinach, artichoke hearts, roasted red peppers, feta, oregano, and garlic.
Season chicken with salt and pepper.
With a sharp knife, make a deep cut in the center the chicken to create a pocket. Be careful not to cut through the chicken.
Stuff the chicken with the spinach mixture.
Add to the slow cooker. To get all the chicken to fit, you will likely need to place them on their sides with the spinach mixture facing up, basically stacking them sideways across the bottom of the slow cooker. This also prevents the stuffing from falling out.
Add the chicken broth.
Cook on low for 4 hours, checking to make sure the chicken is fully cooked through.
Enjoy!
If you're not sure where to start with good nutrition?  We have tons of delicious, healthy and easy recipes at BeyondFit Life!
If you need ideas for healthy week night dinners, fat loss friendly snacks, quick and easy breakfasts, and more… you will love the recipe section of the portal!  And to make things even better: you can download all our member recipes IMMEDIATELY so you get started with your healthier life TODAY!
By Contributing Author: Kate Horney, BeyondFitPhysiques