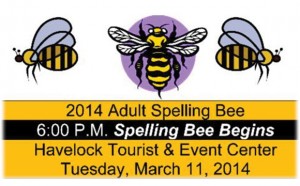 The Havelock Chamber of Commerce is looking for sponsors for local schools so they may participate in the Annual Adult Spelling Bee. Proceeds from the event go to each of the schools that participate including Annunciation Catholic School.
Additionally, we would like to challenge your business or office to participate. The event is lots of fun! Click here for team registration.
The public is invited to enter a team or attend the event. Either way, it's a lot of fun!
Thanks to CravenCountyWebsites.com and Coastal Carolina Orthodontics for being the Worker Bee Sponsorship.
Hive Sponsorships have been received from: Rice's Rentaland, Marine Federal Credit Union, R2 Home Repair, Havelock News, Duke Energy and CarolinaEast Medical System.
Bee Bucks sponsorships received from: Annunciation Catholic School, Baldree's Tire, Havelock Fuel Markets East & West, Chalk & Gibbs Insurance, Craven County Partners in Education, and Bob Hill Enterprises.
If you would like to add your name to the list of sponsors, click here for more information.
Questions? Give us a buzz at 252-447-1101, Fax us at 252-447-0241, or send an email.
Submitted by: Diane Miller, Communications Coordinator, City of Havelock