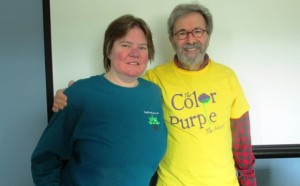 Laura Johnson interviewed Alan Berger, Director of the Color Purple Musical Drama to find out more about this New Bern Civic Theatre production. The interview is airing on New Bern's News Talk Radio, WNOS 97.1FM and 1450AM:
Alan said, "The story of the Color Purple has been around for a long time in book and movie format. It was produced as a Musical on Broadway. This is a great opportunity to see this wonderful musical that adds a whole new dimension to a very rich story".
Show dates and times:
7th – 9th, 14th – 16th, and the 21st – 22 nd . Fri – Sat: 7:30pm and Sun: 2:00pm at the New Bern Civic Theatre.
For more information, call 252-633-0567 or visit the New Bern Civic Theatre's website.
Tell us what you think by commenting below or sending us an email. Visit New Bern Now's Facebook page or sign up for the latest updates by submitting your email address in the right margin on New Bern Now's website.
Wendy Card