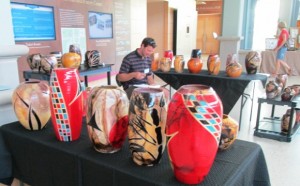 Listen to Laura Johnson's audio about this event aired on New Bern News Talk Radio WNOS 97.1FM and 1450AM and here:
The 6th Annual East Carolina Pottery Festival will be held on Saturday, April 12th in beautiful downtown New Bern, North Carolina.
Over 40 local potters will gather at the North Carolina History Center, part of Tryon Palace, to exhibit and sell their pottery, as well as, demonstrate throwing and building techniques.  Well known potters, such as: Candace Young, Michaele Watson, Carole McCracken, John Peterson, Elizabeth Priddy, Jim Bisbee, Shelly Mathiot, Nancy Newman, Mark Bunch, Melanie Waters, Kathy Whitley, and many more local potters, will demonstrate their unique talents in clay.  The pottery is exquisite and the variety is endless.
Carolyn Sleeper will create her whimsical masterpieces as you watch. Carolyn Curran will have you asking "how can she possibly make pots so tiny."  On the other hand, Scott Haynes and Brent Wheelwright will have you asking "how can they make pots so large."  Ben Watford's face jugs will put a smile on your face, and Rich Daniels will stir your tribal feelings by demonstrating his new series of face masks.
There is something for everyone. The festival is from 9 – 5 PM and is sure to be a great time for everyone who loves pottery in a beautiful historic setting.  For details, contact Rich Daniels, (252) 224-1446.
Submitted by: Rich Daniels