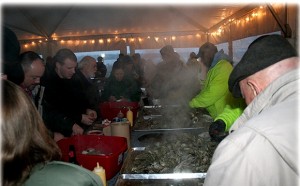 Annual Fundraising Event Held Jan. 31 at North Carolina History Center
WinterFeast is serving up a night of oysters, barbecue and comfort foods on Friday, Jan. 31. Organized by the Tryon Palace Foundation as a fun way to combine food and fun on New Bern's historic waterfront, WinterFeast is an indoor/outdoor event that will be held from 5:30-8:30 p.m. at the North Carolina History Center.
WinterFeast, formerly known as the Aw Shucks! Oyster Roast, is still an oyster roast at heart. The biggest change this year is that several New Bern restaurants are helping WinterFeast expand its offering into a down-home buffet of shrimp and grits, chowder and Eastern North Carolina barbecue. Restaurants providing food for WinterFeast include Moore's Barbecue, The Chelsea Restaurant, 247 Craven and Roland's. A cash bar offering beer and wine will also be available.
Thanks to ample accommodations available in and around the North Carolina History Center, WinterFeast gives partygoers the freedom to enjoy their feast without concerns about the weather. All the food, music and fun can be found indoors and out on Bate Commons, which is known for its picturesque views of the Trent River.
Held as the Tryon Palace Foundation's largest fundraising event of the year, proceeds from this event will be used to support Tryon Palace and its mission of preserving North Carolina history for future generations to enjoy.
"This is a fundraising event that doesn't feel like a fundraising event for the people who attend," said Philippe Lafargue, acting director for Tryon Palace. "People can come out and eat a lot of good food, listen to music and experience our beautiful facility. But they're also making an investment in the future of Tryon Palace. All the ticket sales for WinterFeast have a direct impact on the frequency and quality of our programming. We've already seen a lot of support from local businesses and we're hopeful that we'll see even more support from people in the community on Jan. 31."
Tickets are $35 ($30 if purchased before Jan. 15) and may be purchased online atwww.tryonpalace.org, by phone (252-639-3524) and at the following locations: Tryon Palace ticket desk (529 South Front St., New Bern), Mitchell Hardware and Village Butcher.
The Tryon Palace Foundation would like to thank the following businesses and individuals for supporting this event:
Barbara S. and Ernest C. Richardson, III
The Chelsea Restaurant
Chesnutt, Clemmons & Peacock, P.A.
Chiles Engineering
Coastal Vein and Vascular
The County Compass
East Carolina Dermatology & Skin Surgery, PLLC
Fisher Fuel Markets
Chip Hughes
The Insurance Center
Jill's Pet Gallery
Moore's Barbecue
Oliver Friesen Cheek, PPLC
Mary and Ben Parrish
Potash Corp – Aurora
R.A. Jefferies
Alice and Hubie Tolson
Toyota of New Bern
Trent Cadillac Buick GMC
Ward and Smith, P.A.
WRNS 95.1
For more information about upcoming events at Tryon Palace, call 252-639-3500 or visit www.tryonpalace.org.
Submitted by: Craig Ramey, Manager of Marketing and Communications, Tryon Palace and the North Carolina History Center