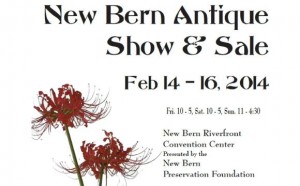 The New Bern Preservation Foundation will hold their 26th annual New Bern Antique Show & Sale at the New Bern Riverfront Convention Center Friday through Sunday, February 14-17.
In the midst of New Bern's historic downtown, the Convention Center will host over 35 professional antique dealers for Valentine's weekend. These dealers will offer 18th through 20th Century furniture, crystal, jewelry, rugs, paintings, prints, vintage linens, silver, glass, toys, books, chandeliers, and everything from antique buttons to memorabilia.
On Saturday and Sunday professional identifiers will be available to evaluate items brought to the show. The valuations are FREE to show attendees (two items per ticket holder).  There will be raffles for cash prizes and numerous non-cash prizes as well.  Restoration resources will also be available at the show.
Throughout the show hours, there will be one or more restoration resources available to answer questions.
Show times are 10 am to 5 pm on Friday and Saturday and 11 am to 4:30 pm on Sunday.
A ticket to the show covers admission for all three days.  Tickets are $7.00 in advance or $8.00 at the door.  Advance tickets may be purchased at Mitchell Hardware, Harris Teeter of New Bern and the New Bern Preservation Foundation office.  All proceeds from the Antique Show will benefit the preservation activities of the Foundation.
For additional information call the Foundation offices at (252) 633-6448, visit the Foundation's website at www.newbernpf.org or visit the Foundation's Facebook page for updates on dealers and events.
About The New Bern Preservation Foundation: Since its founding in 1972, the Foundation has saved, restored, and preserved over 60 historic structures, caused three New Bern neighborhoods to be accepted by the National Register of Historic Places, worked with NCDOT to preserve a portion of Craven County's historic brick road system, and added immeasurable value to New Bern as an attractive tourist destination. The Foundation buys or accepts historic properties, stabilizes them, and then sells them for restoration pursuant to contractual covenants with buyers requiring, among other things, that they be restored to the Secretary of the Interior's Standards. Currently the Foundation has started a project to save and restore historic Union Station in New Bern.
Submitted by: Karen Monroe, Publicity Chair, New Bern Preservation Foundation