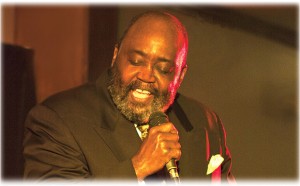 "I feel a good song is defined by the story it tells through its lyrics or an unforgettable musical movement as spoken in Miles Davis' "So What" or Oliver Nelson's "Stolen Moments."…Willie E. Atkinson, Jazz/Blues Vocalist, Composer
On Sunday, February 16, 2014, from 6pm – 8pm, the extraordinary entertaining Jazz/Blues vocalist and composer Willie E. Atkinson will perform at Savages' Wood-burning Pizzeria, 2116 Trent Road, in New Bern, NC. He will be accompanied by jazz piano instructor and jazz pianist Ryan Hanseler of East Carolina University's School of Music, Greenville, NC and percussionist/composer Michael Hanson of Rocky Point, NC infusing his repertoire of intoxicating African, Afro-Cuban, and Latin rhythms.
Atkinson makes each of his show performances a unique and unforgettable experience for his audience through his fluid interpretation of jazz and blues standards. Whether exploring the syncopated rhythms of a swinging tune or telling the story of a lonesome, wanting heart, he offers a fresh approach and seizes every moment to make the song his own. His distinctive vocal styling is captured on his first CD release "Willie E. Atkinson – Live In Oriental, NC."
Atkinson is a student of his kinfolk's musical voice, a music that would become known as the Piedmont Blues, in the rural northern region of Johnston County, NC. He recalls his Grandmother teaching him how to tell the story of a song without losing the beat "…Just hold your head high, sing it like you mean it and pat your feet to keep the beat." It was that lesson learned along with the love of music that became the driving force behind a life dedicated to America's Classical music Jazz and its soul Blues.
Willie's appearance at the 3rd Annual New Bern Jazz & Blues Fest, October 28, 2006 in New Bern, NC featured the well received debut of his original composition "Loving You (Jacqueline's Song)." As the opening act for the festival's headliner, David "Fathead" Newman, Willie and the swinging Transitional Jazz Quartet ended their set with a standing ovation from the audience.
Both Willie's performances for the Eastern Carolina Jazz Series held January and July 2012 at Smoke's Supper Club, in the premier Catering & Flame Restaurant Banquet Center in New Bern, NC, garnered excellent reviews from those fortunate enough to be in attendance.
Before returning to North Carolina in 1995, Willie performed at the Third and Fourth Annual Cotati Jazz Festival, Cotati, Ca. and the Napa Valley Wine Auction (Far Niente Winery). Club and performance dates included the famous Jazz venue Yoshi's Japanese Restaurant and Lounge, Oakland, Ca, Erle's Solano Club, Albany, Ca. and the Vacaville Performing Arts Theater, Vacaville, Ca.
In California at the Vacaville Performing Arts Theater, Willie was the opening act for the late Jazz/Blues pianist Gene Harris, the great Jazz organist Jimmy Smith and the phenomenal saxophonist John Handy.
Willie E. Atkinson and wife, jazz historian Jacqueline B. Atkinson, are owners and operators of WEJA Enterprises Artistic Productions, New Bern, NC. WEJA's primary mission is to promote Jazz and Blues through performance and its educational component, "Jazz & Blues History, A Musical Journey To Pass It On." The educational component is a historical review of Jazz and Blues with an emphasis on North Carolina's Jazz and Blues artists whose contributions helped shape America's music cultural landscape.
This is the third installment of Sunday evening jazz presentations by Savages' Wood-burning Pizzeria. This special evening will see a repeat performance of the blues vocalist Eleanor Savage. Cost for the evening's event is $30, which includes a buffet. For reservations and additional information, call 252-288-4353 or send an email to rdsavage2@suddenlink.net.
Submitted by: Willie E. Atkinson, Jazz Vocalist, Composer, Lyricist