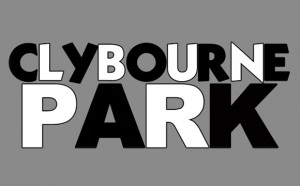 2011 Pulitzer Prize and 2012 Tony Award WINNER!
Clybourne Park
 A black (and white) comedy!
by: Bruce Norris
Directed by Joey Infinito
Jan. 10 – 19, 2014
CLYBOURNE PARK explodes in two outrageous acts set fifty years apart. Act One takes place in 1959, as nervous community leaders anxiously try to stop the sale of a home to a black family. Act Two is set in the same house in the present day, as the now predominantly African-American neighborhood battles to hold its ground in the face of gentrification. – Dramatists Play Service Inc.
There are very few plays that every time I read them they make me, actually, laugh out loud. Clybourne Park is one of those rare few.
When I first read it I knew we would have to do it. Since then this play has won all the big awards–the Tony, the Pulitzer, and in Britain, the Olivier Award–and getting to add it to our season is especially sweet. This brilliant black comedy has been called "ferociously smart" and "a savagely funny and insightful time bomb", and it's no accident that critics use words laced with a sense of danger when describing the play. The playwright, Bruce Norris, has made it clear he's out to stir things up, and his play is very intentionally provocative, centered on the core difficulty we continue to experience in our conversation about race. He uses the revered classic from 1959, A Raisin in the Sun, as his jumping off point, which tells the story of a black family in Chicago who buys a house in a white neighborhood, called Clybourne Park.
In 1959, Russ and Bev are selling their desirable two-bedroom at a bargain price, unknowingly bringing the first black family into the neighborhood (borrowing a plot line from Lorraine Hansberry's A Raisin in the Sun) and creating ripples of discontent among the cozy white residents of Clybourne Park. In 2009, the same property is being bought by a young white couple, whose plan to raze the house and start again is met with equal disapproval by the black residents of the soon-to-be-gentrified area. Are the issues festering beneath the floorboards actually the same, fifty years later? Bruce Norris's excruciatingly funny and squirm-inducing satire explores the fault line between race and property.
General Admission $25 – Students $10, and Tryon Palace Council of Friends $22.
10th – 12th and 17th – 19th: Fri – Sat: 8:00pm and Sun: 2:00pm at in the Cullman Performance Hall, North Carolina History Center at Tryon Palace.
This play contains adult content and language and is NOT intended for children.
Purchase tickets at 901 Pollock St., New Bern or online at: www.ratiotheatre.org. For details call 252-626-0358.
Submitted by: Joey Infinito, Co-Founder and Artistic Director, Ratio Theatre Company