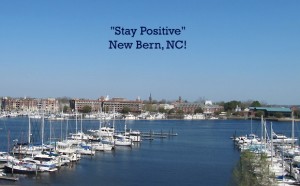 With that being said, we hope that you join us as we ring in the New Year, with our challenge to "Stay Positive and Ignore Nay Sayers"!
New Bern Now's Story: if you don't already know it, here's a short summary: I moved to New Bern in October 2005. After receiving orders to Naval Hospital Cherry Point, I had 30 days to relocate from Washington, DC. I didn't know anything about Eastern, NC, and I had to find a house, coordinate movers, and arrange hookups of utilities, not to mention packing up and deciding where to live among other things.
After retiring from the Navy as a Chief Hospital Corpsman, I created New Bern Now not only because the economy tanked, but to help service members, retirees, and anyone else who was relocating to our area. I wanted to list local businesses and non-profits for free and create a community calendar to help spread the word about local happenings. My goal was to create a "One Stop, Information Shop" for the greater New Bern area.
I bought a book "HTML, XHTML, and CSS for Dummies. After 6 months of researching New Bern and reading the 900 page book, my vision became reality and New Bern Now was born.
Are you asking why? It's because I really do believe in unifying our community. After living with and working with all walks of life in the military: race, age, religion, sex, and any other categories – I see a human being. That's it. I truly believe that together, we can accomplish anything.
New Bern Now has been a called a Kumbaya website as we "promote and don't demote". That means we don't allow negative comments. Our goal is to provide a place where everyone in our community feels safe to share their information.
If you still have reservations, here's some food for thought: What does: "Love your neighbor" mean to you?"
Will you join our challenge to "Stay Positive and Ignore Nay Sayers"?
"Tomorrow, is the first blank page of a 365 page book. Write a good one." – Brad Paisley
Tell us what you think by commenting below or sending an email. "Like" New Bern Now's Facebook page to follow the latest happenings!
Wendy Card