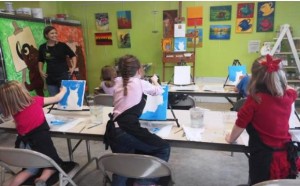 New classes are starting at Bear Hands Art Factory, now located at 1208 Pollock St., including a water color class taught by local artist, Sandy Bruno and an acrylic painting class which begins in February with Beth Conley, another well-know New Bern artist.
"We are so pleased to be working with Sandy and Beth," says Shelley Mathiot, owner of Bear Hands Art Factory. "Both of these ladies have extensive art education and are successful artists in their fields, and are truly passionate about sharing their skills and love of art with others."
Shelley, and her daughter, Hannah Mathiot are also adding more classes for pre-school aged children on Saturdays and have added a new teacher, Lindsay Demonch, to help them with the load.
"Lindsay took classes at our store as a teenager, when we were called Art &Materials and located on Middle Street," Mathiot says. "She went on to graduate from Savannah School of Art and Design. She is a valuable member of our team here, helping with painting parties, and teaching kids' art classes."
The after-school program has expanded, is now offered on Tuesday, Thursday, and Friday afternoons. The demand for pottery classes in their summer camps led Shelley and Hannah to add them to the school year schedule. They also constantly designing new classes to the Friday time slot. Paper-making and Book Arts is their newest  Home-school and After-school class on Fridays.
The adult pottery classes are also expanding, with three evening classes and a daytime pottery class: Beginning Pottery, Intermediate, Pottery 101, and Exploring Surface Decoration. Register for classes online: www.bearhandsart.com or call the studio 252-514-ARTS (2787).
New Adults and Children's classes begin next week at Bear Hands Art Factory:
Beginner Pottery Wheel for Adults, Mondays from 6:00 to 8:00 pm,
Bear Cubs for ages 3+, Mondays from 1:00 to 2:30
After-School Pottery (wheel) Tuesdays, 4:00 to 5:30
Adult Water Color class with Sandy Bruno, Tuesdays from 12:30 to 2:30 pm
Intermediate Pottery Wheel, Tuesdays, from 6:30 to 8:30 pm
Exploring Surface Decoration, Wednesdays from 6:30-8:30
Pottery Hand-Building, Thursdays from 6:00 to 8:00 pm
After-School Pottery Hand-Building, ages 7+ Thursdays, 4:00 to 5:30 pm
Paper-making and Book Arts, ages 7+, Fridays 1:30 to 3:00 and 4:00 to 5:30 pm
Kid's Painting Club, ages 6+ Saturdays, 1:00 to 2:30 pm
Paint and Wine Parties, Saturdays, 7:00 to 9:00 pm
Submitted by: Shelley Mathiot, Bear Hands Art Factory, 1208 Pollock St., 252-514-ARTS