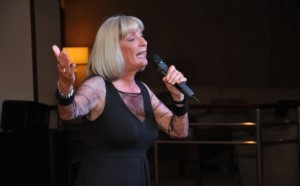 The New Bern Civitan Club is sponsoring a benefit concert starring Deborah Boily, International Cabaret Artist.  Do you love the music of Piaf?  Streisand?  Marvin Hamlich?  Bert Bachrach? Memorable show tunes?  The great stuff you used to hear on the radio?   Then you will love this wonderful intimate evening performed by Deborah Boily.   She will perform 2 sets with wonderful stories and great songs "sung by the best Cabaret performer on either side of the Atlantic" by Cabaret Scenes Magazine.
The concert will be held Saturday, February 22 at 7:30 pm and again Sunday, February 23 at 2:00 pm at the Cullman Auditorium at the North Carolina History Center.  There will be a pre-show featuring John Van Dyke and Co. 45 minutes before each show in the lobby of the History Center.
Tickets may be obtained by calling 252-636-2217.  Tickets are also being sold at the following New Bern locations:  Fuller Music, Bank of the Arts, New Bern Riverfront Convention Center, Sun Journal, C. Foy Tonsorial Parlor and Harris Teeter.  Advance ticket price is $35.  Groups of 10 or more will be $33 each.
All proceeds directly support Craven County charities.  For additional information, contact Jim or Maureen Comer at 252-636-2217 or send an email.
Submitted by: Amy Willis on behalf of the New Bern Civitan Club