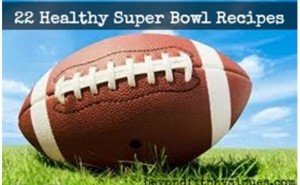 By Kate Horney, BeyondFitPhysiques
Looking for some Healthy Super Bowl Recipes?
For many families, Super Bowl Sunday equals SUPER BOWL (get it, like… a really HUGE bowl) snacks.
Problem:  Traditional favorites like chips, dips, wings, and pizza are standard game day fare, but these snacks offer nothing more than empty calories, tons of sugar, and loads of fat!
Solution:  With the big game less than one week away, today I want to share with you some easy recipes and better-for-you alternatives to the classics. With delicious, fat loss, (and family) friendly food like this, you'll have everyone at your Super Bowl party cheering HEALTHY SNACKS, FOR THE WIN!! 🙂
22 Healthy Super Bowl Recipes
Healthy Appetizers
Game Day Ranch Dip
Healthy Salad Dressing Recipe
Homemade chips & Salsa
Homemade Guacamole
Parmesan Zucchini Chips
Healthy Main Dish
Slow Cooker Cilantro Lime Chicken
Fat Loss & Family Friendly Sloppy Joes
Bacon Wrapped Stuffed Chicken
Skinny Taco Salad Bar
Buffalo Chicken Chili
Easy, Make Ahead Chicken Fajita Recipe
3 Ingredient Slow Cooker Buffalo Chicken
Taco Squash Bake
Gluten Free Turkey & Veg Meatballs
Metabolic Effect's Quick Chili
Healthy Desserts
Homemade Twix Candy Bar
No Sugar Chocolate Chip Cookie Pie (Gluten Free!)
Fat Loss Friendly Sugar Pecans
Fudgey Squash Brownies
Peanut Butter Hummus
Gluten Free Peanut Butter Cookies
Regardless of who wins the game, you'll score points among your family & fellow fans with these healthy Super Bowl recipes!  Pin this page for easy access to all the best healthy super bowl recipes!!
Don't forget to post pics of your healthy super bowl snacks using the hashtag: #healthysuperbowl! 🙂
By Contributing Author: Kate Horney, BeyondFitPhysiques