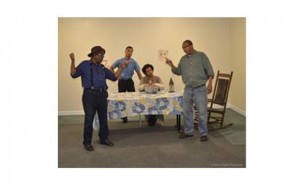 Free Event Held in Cullman Performance Hall on Thursday, Jan. 16
Tryon Palace's 2014 African American Lecture Series begins on Thursday, Jan. 16, with the play "When I Leave." Based on actual events that occurred in 1957, this free performance begins at 7 p.m. inside Cullman Performance Hall.
Playwright Ella Joyce Stewart's "When I Leave" carries the audience to 1957, where a young man named T.J. is struggling with his existence as an African American living in rural North Carolina. Working on a farm and struggling with the injustices of segregation in his small town, T.J. is about to graduate high school and move into adulthood. Standing at a crossroads that intersects optimism with skepticism and rage, T.J. is anxiously waiting for the world to change.
"January is a time for new beginnings and for African Americans, 1957 was definitely a time of new beginnings," said Sharon Bryant, African American Outreach Coordinator. "The Southern Christian Leadership Conference (SCLC) was formed in 1957 and managed by its first president, a young Martin Luther King, Jr. And later on that same year, President (Dwight) Eisenhower signed the first voter registration bill. But we have to ask ourselves, 'Who initiated those changes?' We need to understand and hear the individual stories of people just like us."
An accomplished author and founding member the North Carolina Association of Black Storytellers (NCABS), Stewart's "When I Leave" is an original, historical drama based on a true story. Her other plays include "Another Family Reunion," "Christmas-In-A-Shoebox" and her most recent, "Who Made the Potato Salad," which she co-wrote with Antuan Hawkins.
Tryon Palace's 2014 African American Lecture Series will be held at Cullman Performance Hall on the third Thursday of every month. Each event is free, thanks to a generous donation from the Harold H. Bate Foundation.
Special hearing devices are available if needed. Contact Tryon Palace 48 hours in advance of the performance to make arrangements. For additional information about "When I Leave" and other programs at Tryon Palace, please call (252) 639-3500. Information is also available at www.tryonpalace.org.
Submitted by: Craig Ramey, Manager, Marketing and Communications, Tryon Palace