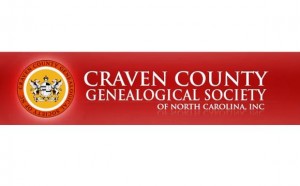 The Craven County Genealogical Society will host, Victor T. Jones, Jr., who is the head of special collections at the New Bern-Craven County Public Library's Kellenberger Room, as part of their monthly meeting on Tuesday, January 14, 2014 at 7 p. m.  He will talk about what is new in the Kellenberger Room Collection that will assist you with your family history research.  The Kellenberger Room is a treasure trove of genealogical and historical materials for North Carolina and many other states.
The Society's monthly meetings are held at the New Bern LDS Church located at 1207 Forest Drive off Trent Road.  The monthly meetings are free and open to the public and membership is encouraged.  The Society has a vibrant and diverse membership representing not only Craven County and North Carolina, but also many other states as well.  Come and learn more about researching your family tree.
For more information, please visit www.CravenGenealogy.org or contact Pres. Carolyn Dougherty Smith at csmith139@ec.rr.com or 252.444.5420.
Submitted by: David French