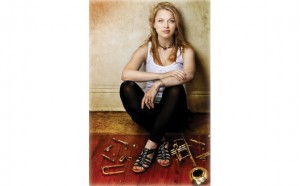 February 9th brings six world-renowned jazz greats to New Bern to celebrate 25 years of the Sunday Jazz Showcase during two performances at the Doubletree by Hilton. This outstanding group includes Canadian Bria Skonberg, leader, on trumpet; Australians Adrian Cunningham on reeds and Nicki Parrott on bass; Italian Rossano Sportiello on piano; Floridian Eddie Metz on drums; and North Carolina's own Maddy Winer on vocals. Tickets for the 1:30 p.m. and 7 p.m. performances can be purchased by calling 252-638-2577 or 252-637-2300, or by visiting the Bank of the Arts, 317 Middle Street in New Bern.
The Sunday Jazz Showcase began in 1989 when local businessman and Craven Arts Council member John Sturman and his wife, Hanna, decided New Bern could use some top-level jazz. Driving down to Wilmington, NC for the annual North Carolina Jazz Festival that's held on a Saturday, they decided it made perfect sense to put something together in New Bern for the next day. After a few unsuccessful attempts to find a corporate sponsor, John decided to try the nonprofit sector and approached the Arts Council. Cary Worthy, executive director at the time, came to see the light that this could be a great fundraiser.
The Showcase was first known as the Sunday Jazz Buffet, complete with ice carvings and buffet. Milton Hinton, who had played bass on some 800 recordings, joined drummer Bobby Rosengarden (with the NBC Orchestra for more than 20 years), clarinetist Kenny Davern (considered by the New York Times "the best in the country"), and longtime jazz pianist Dick Sturman. To everyone's delight, it was an instant success, and Hinton was quoted as saying, "I hope I live long enough to perform again with Dick!"
The problem with instant successes is that then folks start complaining that they can't get tickets, so the event expanded to include a second performance in the evening. Today, the Sunday Jazz Showcase continues to be sponsored by Craven Arts Council, led by longtime Executive Director Carol Tokarski, and continues to be a major fundraiser for the nonprofit. Although each year the Council hears that "this one's the best," the 25th Sunday Jazz Showcase may very well be "the best." Don't miss it!
Submitted by: Amy Hammond, New Bern Convention and Visitors Bureau