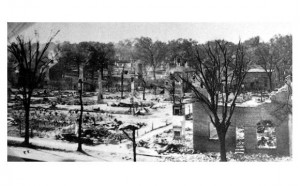 Join us for a presentation about the rich history of Dryborough which became Craven County's second town incorporated in 1806 originally located between Queen and Cypress Streets on the edge of New Bern.  This free event will be held on Saturday, February 8, 2014 at 2 p. m. in the Hayden H. Jones Auditorium at the New Bern-Craven County Public Library at 400 Johnson Street, New Bern.
The event will explore not only the early history when Dryborough was first developed by future North Carolina Governor, General Benjamin Smith (1757-1826) and his wife Sarah Rhett Dry Smith (1762-1821) who named it in memory of her father, Colonel William Dry (1720-1781), of South Carolina and Wilmington, but also its enduring legacy as the social and cultural center of African American life in New Bern even after the "Great Fire of 1922" which greatly impacted the people and area both economically and culturally.
The program will feature:  A Dryborough historical exhibit and presentation by Mrs. Ethel Martin Staten, a retired educator and native New Bernian, who grew up in Dryborough and is the founder of the Historic Dryborough Neighborhood Association, Inc; Short talks by Ms. Gwendolyn M. Bryan and Miss Janet J. Latham, both native New Bernians, whose fathers, Dr. Samuel D. Bryan and Dr. Joseph R. Latham, Sr., lived through the "Great Fire of 1922"; and A presentation about Dryborough Notables by Ms. Lisa A. Keesen followed by a questions and answers period and refreshments.
The presenting partners for this historic event are:  Historic Dryborough Neighborhood Association, Inc. (Ms. Zelda L. Bryant), Saint Cyprians Episcopal Church (Mrs. Shirley Foster Guion), Family History Society of Eastern North Carolina (Mr. David A. French), The Climbers Club (Ms. Tracy Cunningham Shope), Uptown Business and Professional Associates (Mr. Dantae Dillahunt), First Missionary Baptist Church (Mrs. Ernestine Hatch Staten), Ebenezer Presbyterian Church (Mrs. Arabelle Bulluck Bryant), City of New Bern Development Services (Mr. Kevin Robinson), and Resourceful Communities (Mrs. Ethel Martin Staten).  We look forward to seeing you as we learn more about the rich cultural history of Dryborough and its future potential.
For more information, please visit www.ENCFamilies.org or contact Mrs. Ethel Martin Staten at 252-637-7192.
Submitted by: David French, Family History Society of Eastern North Carolina