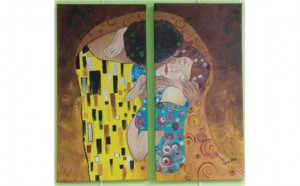 Bear Hands Art Factory will be hosting their annual Valentine's Day Date Night  February 14th, From 7 to-9pm,  at their new location, 1208 Pollock Street. Participating couples will paint a two part painting inspired by Kilmt's Art Deco masterpiece "The Kiss." Couples, siblings, friends, and mother-daughter pairs are all encouraged to participate in this creative evening! Cost of admission is $70 per couple.
Participants are welcome to bring wine, beer, or refreshments to enjoy while they paint. Sandy Bruno, local artist at the Baxter Gallery in New Bern, and teacher at Bear Hands Art Factory, will guide participants through the painting step-by-step.
Hannah Mathiot, teacher and owner at Bear Hands, assures that even people with little to no painting experience will be able to enjoy the process. "We draw the outline of the painting ahead of time, so that our students can focus on the painting experience," says Mathiot.
You can sign up to participate in the Date Night by calling Bear Hands at (252) 514-2787, or visiting www.bearhandsart.com and clicking on the event on the calendar page.
Submitted by: Hannah Mathiot, Bear Hands Art Factory