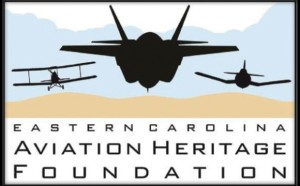 Go Faster, Go Farther – The Osprey
The Eastern Carolina Aviation Heritage Foundation (ECAHF) will be holding its 5th Annual Gala on Friday, January 31st, 2014 at 5:30pm at the Havelock Tourist & Event Center with Col John Rader, USMC (Ret.) from The Boeing Company as our featured speaker. Col Rader is the vice president for electronic and sensor solutions, electronic and information solutions of the Boeing Network and Space Systems
The program, Go Faster, Go Farther – The Osprey, will highlight recent engineering and technology advances in rotary wing aircraft. Col Rader previously served as the Vice President for Bell Boeing Tiltrotor Systems in relation to the V-22 Osprey. He was responsible for leading the study, design, production, and sustainment of tiltrotor capability in the international market.
The event continues to build on the organization's focus on the role of STEM (Science, Technology, Engineering and Math) in aviation. Individual tickets are $50 or $90 for a couple. Additional sponsorship opportunities are available, including table sponsorship at $300.
The Gala's Master of Ceremonies, MajGen Thomas Braaten, USMC (Ret.) will entertain audiences again this year. MajGen Braaten will celebrate the history and heritage of rotary wing aircraft and demonstrate how STEM skills relate to a variety of aviation careers in our region.  MajGen Braaten also chairs the Eastern Carolina Aviation Heritage Foundation which presents the Aviation Exhibits at the Havelock Tourist & Event Center.
MajGen Braaten shares "Helicopters have come a long way since I started flying them in the 1960s.  Part of the reason for the improvement in capability and performance is advancement in technology and the materials we have now.  Part of it is the creativity of aerospace engineers.  Part of it is a demand by the military for helicopters that could lift more, fly faster and farther, and withstand the rigors of combat even better.  Part of it is the demand to use helicopters in the civilian community.  But the main factor is better understanding through lessons learned and education.  Science, Technology, Engineering, and Math (STEM) in the hands and brains of our citizens have brought about these incredible improvements.  And each improvement requires new skill sets at many different levels.  Through our efforts with community schools, ECAHF is doing our best to ensure we have the folks with a solid understanding of STEM to allow our country to keep making leaps into the future faster and farther."
Support the Eastern Carolina Aviation Heritage Foundation's outreach efforts to promote STEM initiatives and the area's rich Marine aviation heritage in area schools and youth organizations and join us for the 5th Annual Gala: Go Faster, Go Farther on January 31st. Tickets are available for purchase by calling the Havelock Tourist & Event Center: 252.444.4348 or by emailing Amanda Ohlensehlen  at AOhlensehlen@havelocknc.us.
For more information about the foundation, visit www.ecaviationheritage.com.
Submitted by: Amanda Ohlensehlen, Sales Manager, Havelock Tourist & Event Center