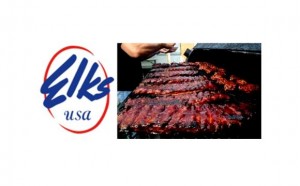 Once again, just in time for Super Bowl weekend, the New Bern Elks Lodge is grilling delicious barbeque pork spare ribs.
They will be available on Saturday, February 1, at the Simmons Street Piggly Wiggly, 1208 Simmons St., New Bern, from 8 AM to Noon.
The price is unchanged from last year:  $14 for a full slab; $7 for a half slab, with your choice of sauce.
All proceeds will be used to assist North Carolina Veterans.
Reservations for ribs can be made by calling the Elks Lodge at 252-638-8116, or by signing up at either New Bern Piggly Wiggly.
Submitted by: John Serumgard on behalf of the New Bern Elks Lodge