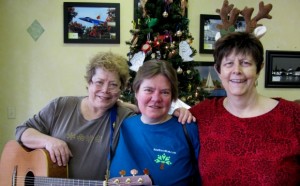 We enjoyed our visit to Bear Towne Java to see our friends and support a great cause!
Bear Towne Java owners, Jean Kenefick and Teresa Mitchell, joined forces with Bobbi Waters for this fun-filled charity. Bobbi sang for the crowd and everyone who donated items or money received a free cup of coffee.
If you missed today's event, the Colonial Capital Humane Society is always in need of the following:
Cleaning Supplies: Dawn Dish Detergent; Small or Large Trash Bags; Paper Towels; Toiled Paper; and Scrubbies
Food: Little Friskies Canned Food along with pate' as some of the animals have dental issues
They were also taking photos for $5 of people's pets to be published on Bear Towne Java's Facebook page and emailed to them.
Special thanks to Bobbi, Teresa, Gary Kenefick, and everyone who participated in today's event!
Tell us what you think by commenting below or sending us an email. Visit New Bern Now's Facebook page or sign up for the latest updates by submitting your email address in the right margin on New Bern Now's website.
Wendy Card