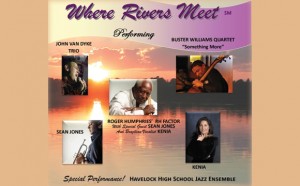 Saturday, January 18, 2014
Grover C. Fields Performing Arts Center
2000 Dr. Martin Luther King, Jr. Blvd., New Bern, NC  28562
Doors:  6:00pm ▪ Concert: 7:00pm
855-380-ECJR
Jazz luminaries perform at East Coast Jazz Revue's Where Rivers to commemorate the Martin Luther King Holiday. The concert will support two local organizations: the Food Bank of Central and Eastern North Carolina at New Bern, and the Coastal Women's Shelter.
The East Coast Jazz Revue's Winter Series presents two sensational concert performances:  internationally acclaimed bassist Buster Williams Quartet "Something More", and legendary jazz drummer Roger Humphries's RH Factor featuring trumpeter Sean Jones and Brazilian vocalist Kenia. North Carolina's popular jazz vocalist John Van Dyke will also be featured.  A special opening performance will showcase the Havelock High School Jazz Ensemble, one of the nation's finest.
On Saturday, students in grades 6 and up are invited to an opportunity-of-a-lifetime with a Jazz Master Class led by legendary drummer Roger Humphries and RH Factor with special guest, Sean Jones at 1:00pm at the Performing Arts Center.  Music students will be treated to a music demonstration, a Q&A session with the artists, and a first-hand behind the scenes look at how jazz professionals prepare for performances.  There is no charge for the Jazz Master Class. Students are encouraged to bring their instruments. All student attendees will receive an event souvenir.
East Coast Jazz Revue invites middle and high school music students, band directors, directors and deans of music departments and schools of music from area colleges and universities, and youth organizations to participate.  Registration for the Jazz Master Class opens on December 9, 2013.
As a proud partner of the Food Bank of Central and Eastern North Carolina, East Coast Jazz Revue will host a canned good food drive the day of the concert, January 18th at the Grover C. Fields Performing Arts Center.
Tickets can be purchased locally at the door Fuller's Music (2310 Trent Road) in New Bern and at Guitar's Etc. (341 West Main Street) in Havelock.  Discounts are available for youth (16 and under); seniors (60+ years); active military and students with valid ID; and for groups of 10 or more.  Tickets can also be purchased online at Eventbrite.com.
As part of the four-day MLK Holiday, East Coast Jazz Revue has preferred hotels that are offering concert special room rates.  Go to www.whereriversmeet.net for more information about the artists, their music, the Youth Jazz Master Class, and hotels.
The East Coast Jazz Revue, a NC non-profit organization, has a special focus on youth enrichment. Its mission is to cultivate jazz education and jazz appreciation through performances, lectures and workshops;  introducing audiences to international and national talent throughout the East Coast with emphasis on North Carolina's rich contribution to this American art form. EIN# 61-1630811
Powered by: Taintradio.org
Submitted by: Tarshi McCoy