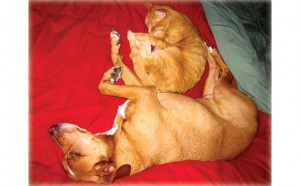 2013 was a spectacular year for Pals for Paws.  Our raffle ticket campaign was the most successful ever.  We have enough funds now to continue our projects.  Our Affordable Spay/Neuter program is making a difference in unwanted dog and cat births in the New Bern area.  At this time, December, we have subsidized the spay/neuter of 258 dogs and 414 cats.  These numbers are up from last year and we still have a couple of weeks to go.  We want to thank Animal Care Center on Hwy 17 for their help in this program.  Without their participation, there would be no program.
My special joy is the New Leash on Life program.  Every 8 weeks, 4 dogs are rescued from the Craven/Pamlico Animal Shelter and taken to the Craven Correctional Institution.  There they are obedience trained, housebroken, leash and crate trained and given basic agility training.   At the end of this period, they are adopted into the best homes imaginable.  In 2013, 28 dogs graduated from the program.  This includes the graduation that is going to be held in January due to the end of the year holidays falling on a Wednesday that is always graduation day.   They were trained in November and December, but because of the calendar, they are graduating in January.
These dogs have found wonderful homes in many different areas.  Two are in Trent Woods, three in New Bern, four in Greenville, one in Taberna, two in Hubert, four in River Bend and three in Fairfield Harbour.  One went to Maryland to live with the parents of one of our Veterinarians,  one is in Oriental, one is in Wilmington, two in Beaufort and one in Morehead City.  We even have one in Raleigh and one in Rocky Point.   They are great ambassadors for the program.
If you are interested in adopting a New Leash on Life dog, four new ones will enter the program on January 8th. Check out our website www.palsforpaws.org to see what we have.  If you find one you want, give me a call and email me your application.  Remember that we find the best home for the dog's personality, disposition and energy level – not a dog that is on your wish list.
We also want to remind you that you can make a donation to us for someone else and we will send an acknowledgement card of your wonderful thought in their time of need or celebration.
We are looking forward to a new year to continue our work.  It is exciting, rewarding and fun.  I am particularly lucky since I adopted one of these spectacular NLOL dogs in 2013.  Connor makes me laugh and brings so much joy into my life.
For more information, please call 252-637-7387 or visit: www.palsforpaws.org.
Bonnie Compton – New Leash on Life program
Sheila Rohner – Affordable Spay/Neuter Program
Submitted by Bonnie Compton