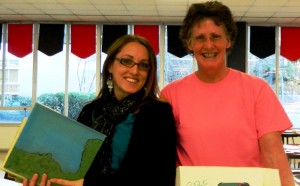 On Thursday, December 12, at H.J. MacDonald Middle School, Partners In Education held its annual Book Giveaway for the educators of Craven County Schools.
The books collected during the Book Drive were made available to educators for their classroom libraries and school media centers. Community Partners for the Book Drive were Newspapers In Education (NIE) and Craven Smart Start.  During the same time, the Beginning Teachers' Store was open to offer resources to Craven County Schools' beginning teachers. The items offered are items they would normally purchase with their own money.
The Beginning Teachers' Store is funded by a grant from The Harold H. Bate Foundation.
Submitted by: Darlene J. Brown, Executive Director, Partners In Education